Welcome to Mathios, the place where you can enjoy unique tasting experiences throughout the day.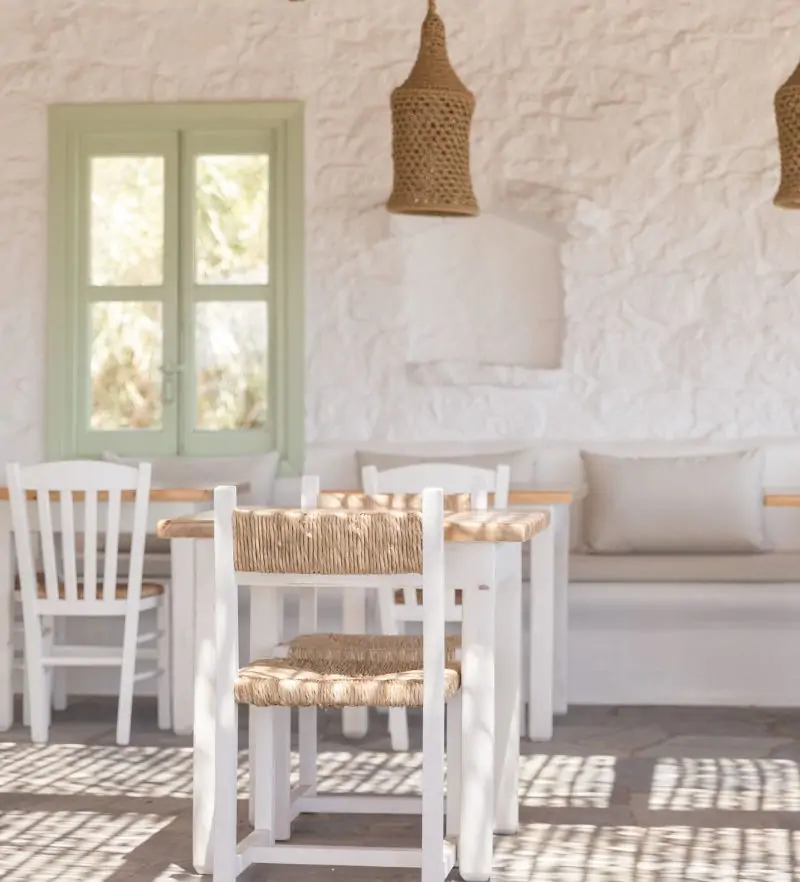 Welcome to the Greek Taverna in Mykonos - Mathios
At the traditional Greek taverna in Mykonos "Mathios Taverna", you can enjoy unique tasting experiences throughout the day. With special emphasis on local Greek cuisine and excellent hospitality, our tavern offers high quality service from 1964 until today. A wonderful destination that combines quality with tradition, offering you a great experience on our island.
The traditional Greek dishes that one can enjoy in our tavern are characterized by their high quality and the excellent tasting experience that they offer. In our taverna you will find fresh products, which Mathios himself cultivates in his garden with special love and passion. In the most traditional place in Mykonos, you can enjoy wonderful recipes that are passed down from generation to generation.
Join Mathios and get a taste of local Greek flavors!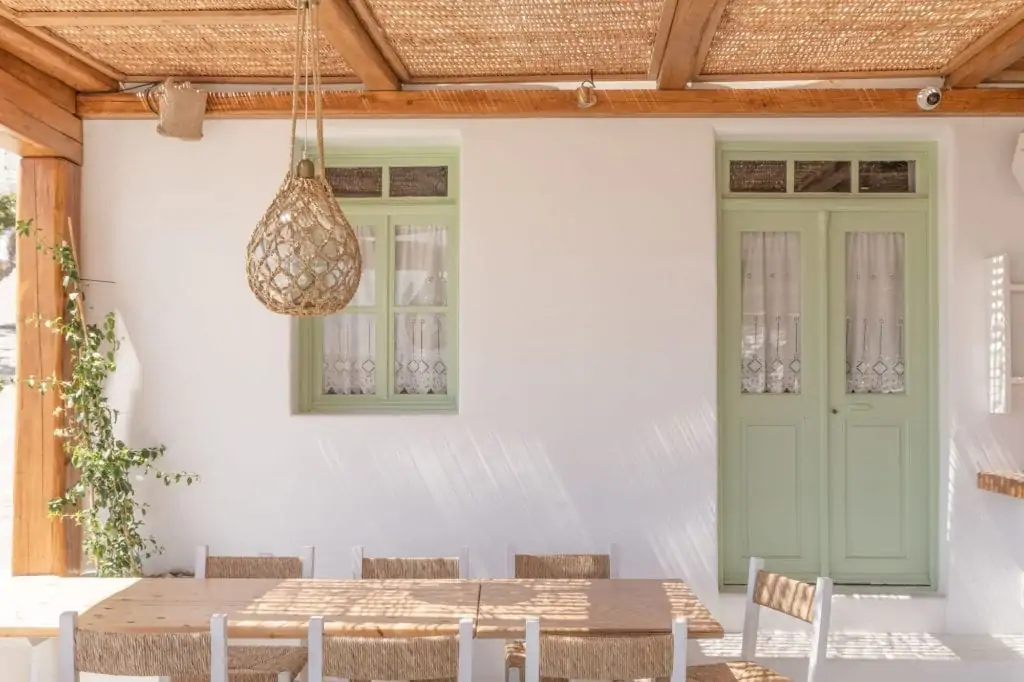 Greek Tavern with Emphasis on Tradition
Unlike many "taverns", Mathios Taverna is one of the few traditional Greek taverns in the area of ​​Mykonos. In an island where restaurants dominate, tradition is something that is slowly disappearing. Here, you can enjoy your meals in a truly traditional environment, enriched with all the delicious pleasures that come from the local products of our island.
We are looking forward to meet you. You can have a look on our detailed menu or make an online reservation.
Serving from Morning until Night
The traditional tavern Mathios is much more than a place to enjoy wonderful local flavors. This is a place where it can serve you from the light of the first sun until late at night. In particular, in the morning our traditional tavern serves coffee and breakfast / brunch with local products.
At noon and in the evening you can taste a variety of options from home-cooked meals as well as hour dishes r from high quality local products. Finally, for those who want a relaxed end to their evening, you can try some delicious cocktails, in an amazing location and a magical place.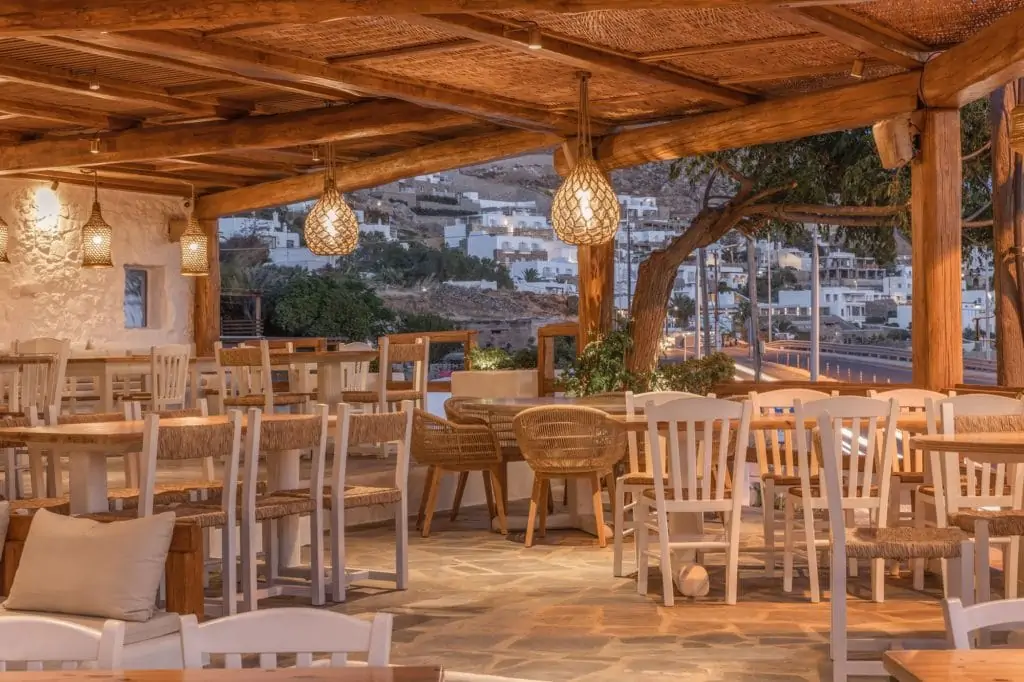 One of our favorites for lunch, never getting tired of this menu ! This is a family-run, traditional cuisine, Greek tavern with a vast menu of home-cooked recipes. Recommended: veal fillet, carbonara, Mathews salad, kremydopita, mousaka and if you have time to order in advance pork 'kotsi' is a must! In addition to the above, their chocolate mouse simply rocks !
I visited mathews as i first got out of my ferry to grab a quick bite.The host was very polite and the server was quick to come with the entrees.I ordered a traditional mykonian salad which was served really fast and had an extremely tasteful flavor to it. The main dish was pork chops with mustard sauce.I cannkt describe the taste it was amazing and the portion was really big enough to satisfy my needs.overall a great experience amazing staff amazing food you should visit this tavern if you come to mykonos.
Excellent food & even though it is on a busy highway across from the harbor it has an inviting cozy & gorgeous front veranda shaded by olive trees & grape vines. For lunch we had their daily specials which were delicious & with portions so large we ate our leftovers for dinner.
My ferry was slightly delayed so I went to the closest taverna. The service was really quick, friendly and efficient. I had the "chicken nest' located in the hot starters section. That was a creative and delicious course and it was perfected. Its large enough for it to be in the main course section though.
This is our 3rd night of eating here. The food is Fantastic, just had the pork shank absolutely stunning and the chips are to die for. Both other nights we have been given complementary Mellon. Tonight we have been presented with a selection of desserts. The staff are extremely friendly. Back again tomorrow.
Really impressed by the quality of the food and the flavours. We had Matthews salad- which I recommend- chicken with lemon sause and chicken in a roll. Everything was really amazing and the portions generous!